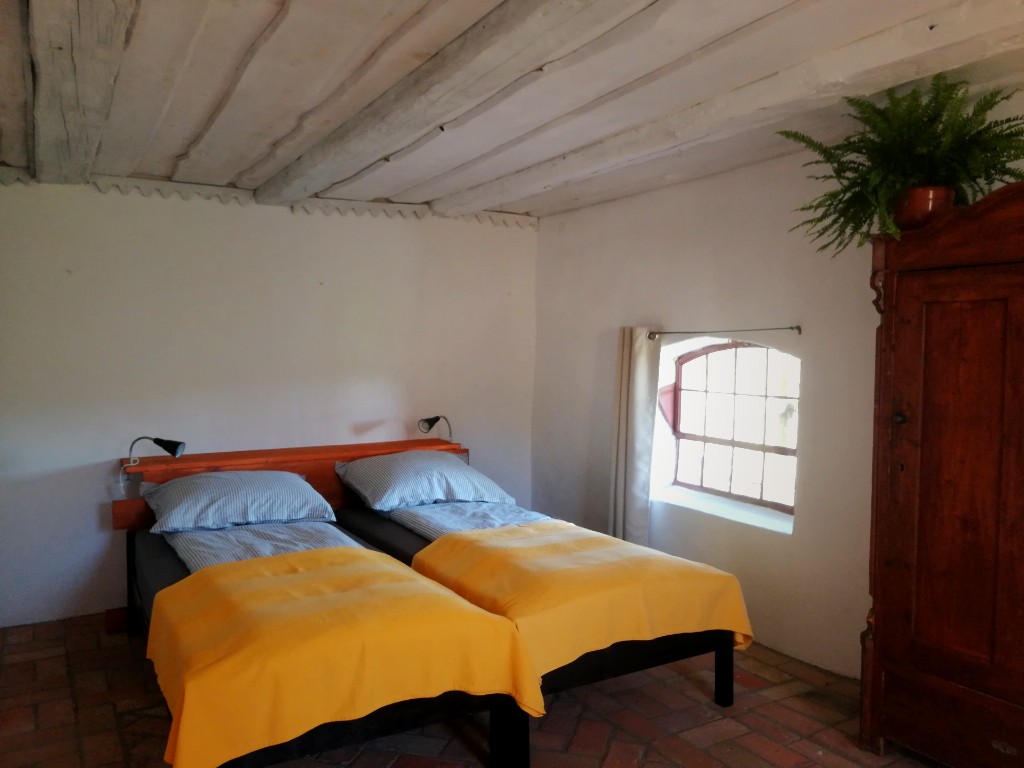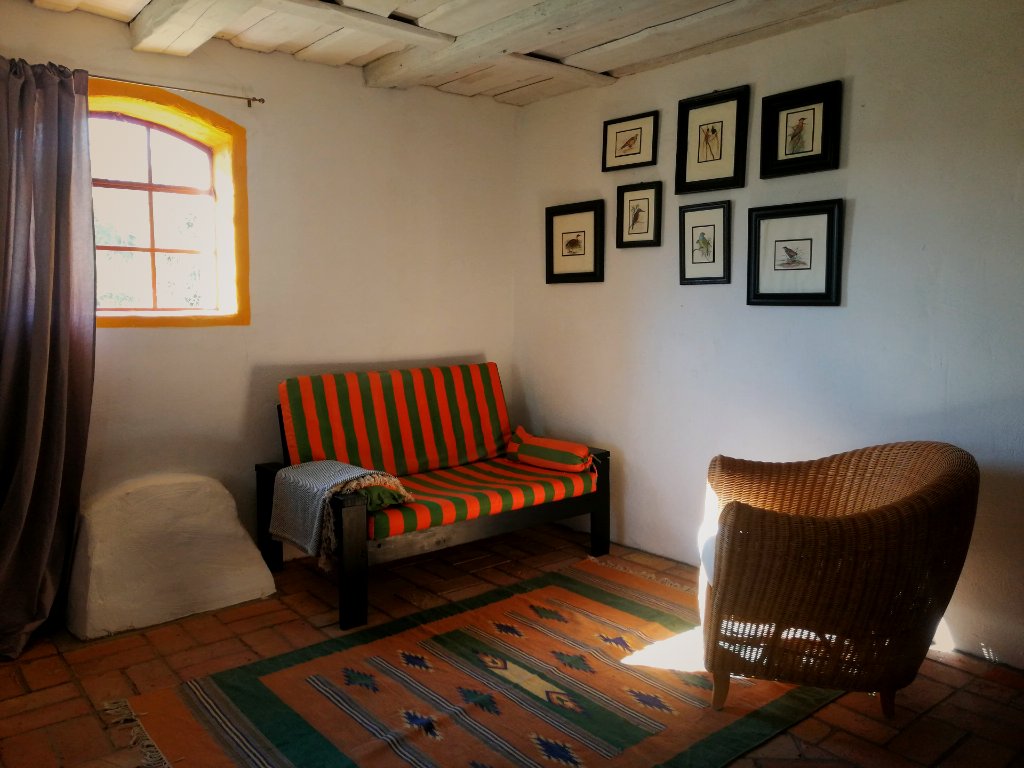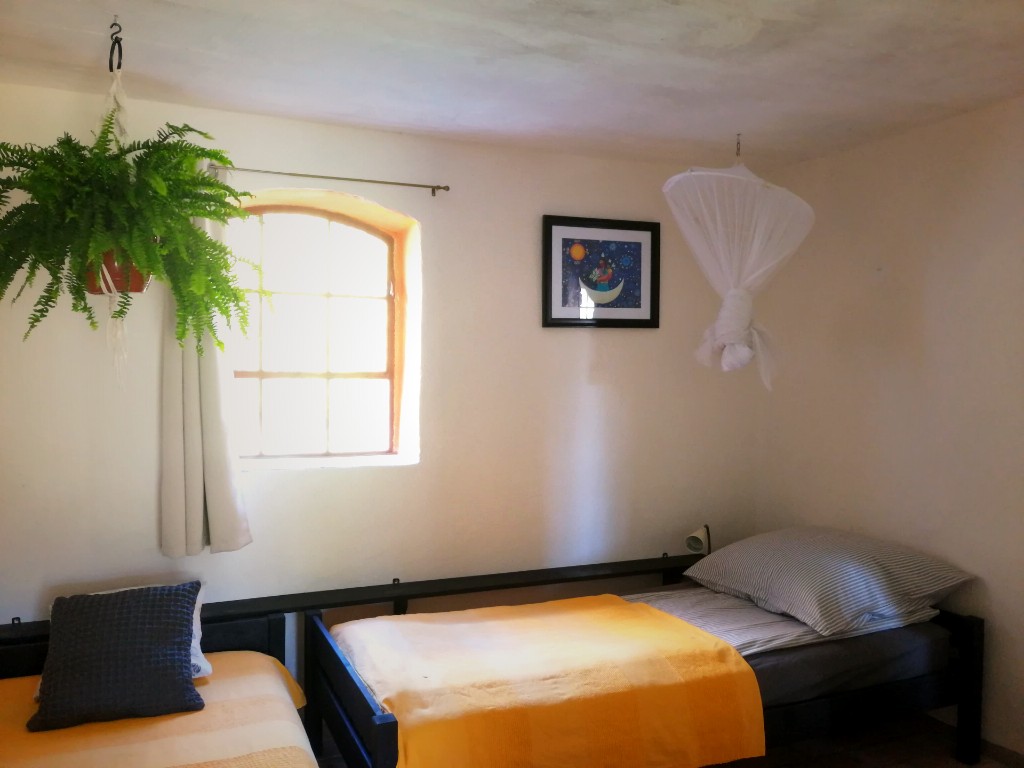 This room is located on the groundfloor of our barn. With 40m2, the room is perfect for families or  friends (4 single beds which can be set upon request). It has 20m2 terrace with view on backwaters. Outdoor activities are easy to access…
An opportunity to rediscover flora around us? For sure!!
4 single beds
Private bathroom
Private patio
Towels
Mosquito nets
Hamak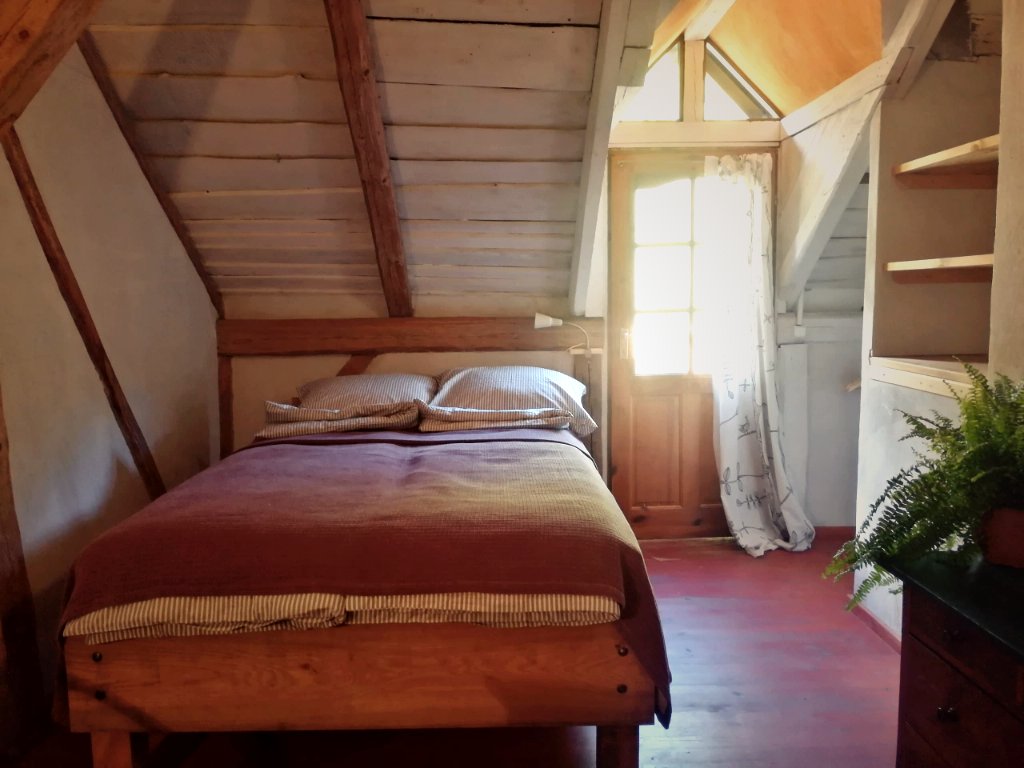 Located on the first floor of our barn, this rooms is a twin bedroom with a lovely and intimate balcony. The view on the forest and birds cannot be better. 20m2 room where we heard about some artists getting inspired and falling in love again…
Will you be the next one?
2 single beds
Private bathroom
Balcony
Towels
Mosquito nets
Long chairs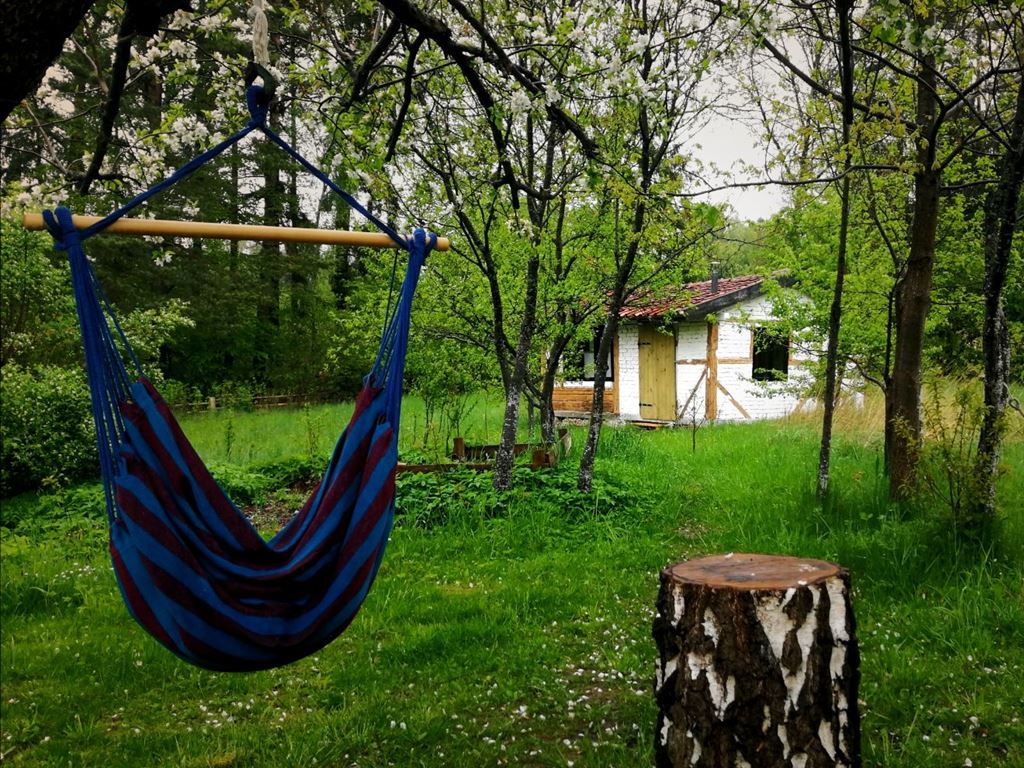 Warmiak is located in the meadow between the vegetable garden, the orchard and the forest. This small house has a lovely countryside atmosphere. It is our favorite room – our pearl. With its fireplace, windows and views… legends say that it inspired poets. The place is now waiting for you!
1 double bed (160 x 200)
Private bathroom
Private patio
Towels
Mosquito net
Fireplace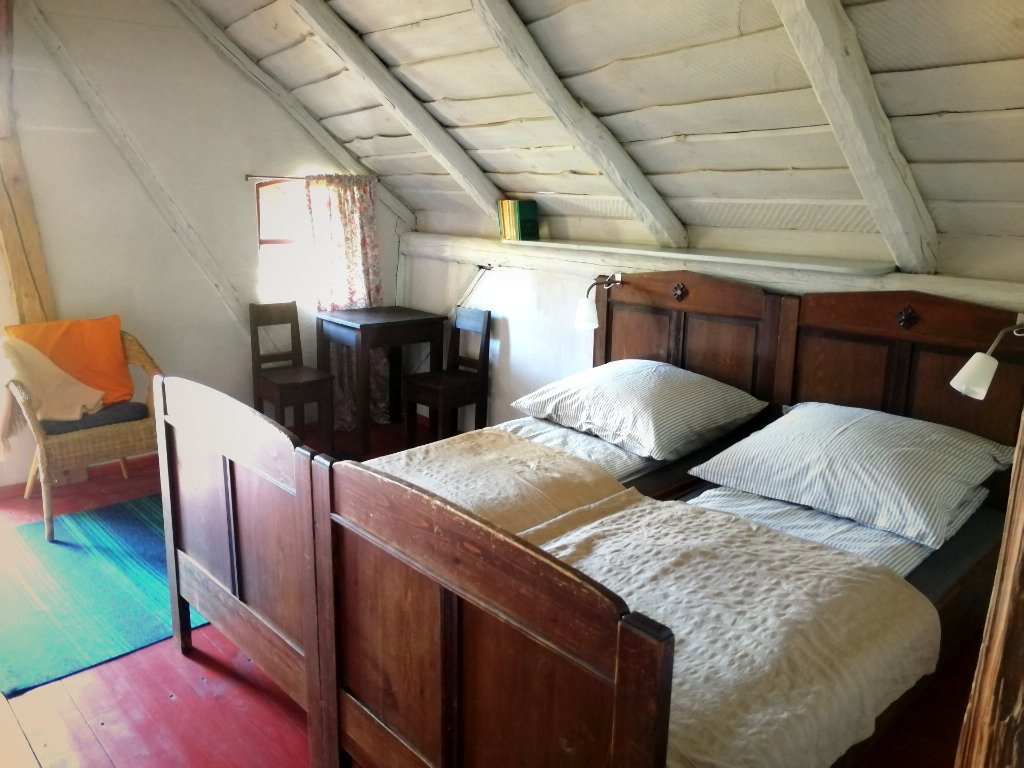 Located on the first floor of our barn, this room gives access to a common terrace with an incredible view on backwaters. In June, Cherries grow around and from August, grapes climb to you ready to be eaten. They all are sweet and make this 20m2 room a peaciful place to take a rest and breathe nature.
2 single beds
Private bathroom
Common Patio
Towels
Mosquito nets
Hammock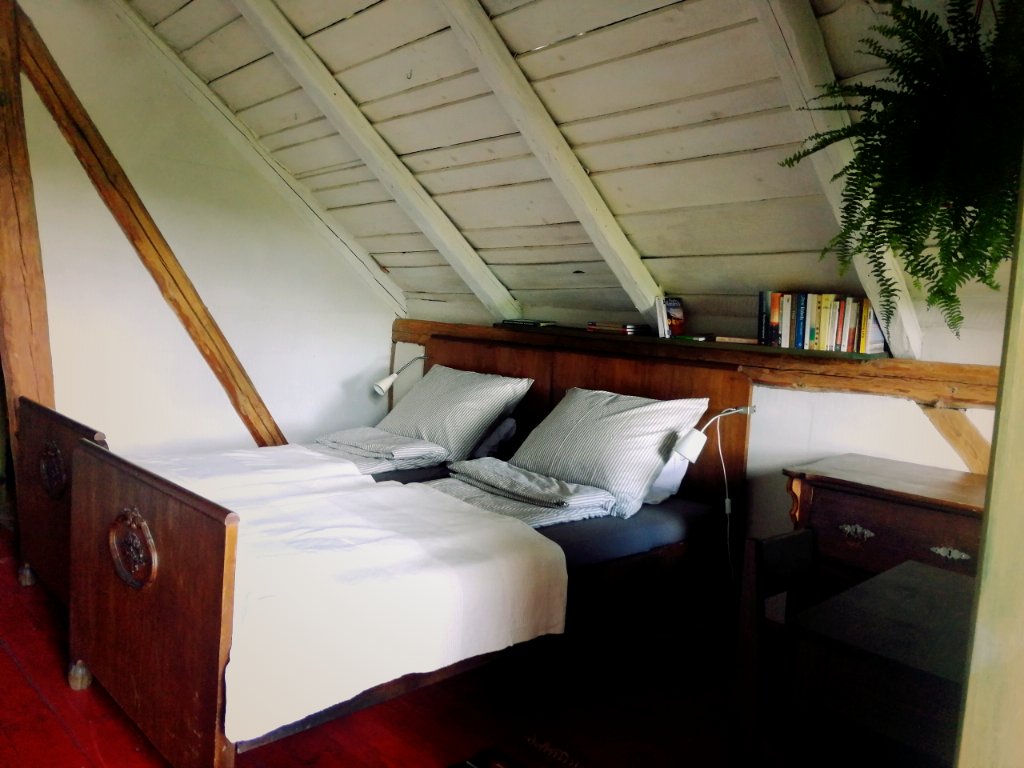 Located on the first floor, Vitis is Prunus twin. Same access to a common terrac with unobstructed view to backwaters. This 20m2 cosy room is perfect to take a rest, breathe nature and enjoy fruits from the garden. 
2 single beds
Private bathroom
Common Terrace
Towels
Mosquito nets
Hammock
" Foster a sharing spirit "
1/ A restaurant area with fireplace, coffee, tea and summertime scents… During the season, some snacks, juice, lemonade, etc… will be provided during the day according to daily garden delivery. Discover our offer!       Wifi access in this area.
2/ A common library and relaxation lounge with books, tourist notice board, maps and musical instruments.
3/ 3ha property with outdoor activities/accessories. There is a pond with 2 boats and a paddleboard. Fishing is possible as well as a nice swimming. In addition to that, a couple of bikes are ready to be ridden to explore surroundings.
Super accueil des propriétaires qui se plieront en 4 pour vous satisfaire, un lieu de détente et de ressourcement, n'hésitez pas à parler avec David qui a de multiples sujets de discussions. Je recommande chaudement
👍
Polecam! Miejsce z duszą i wspaniałą atmosferą! Gospodarze- nie znajdziecie wspanialszych ludzi na Mazurach!
Z całego serca polecam. Cudowni ludzie, cudne miejsce.
Wspaniali właściciele o wielkich sercach i miłości do drugiego człowieka i zwierzaków. Wspaniale miejsce. Gorrrrąco polecam
" Capture natural energy:
from Sun to Humans "